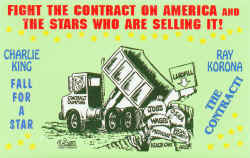 Fight the Contract On America and the Stars who are Selling It
Tape (contains two songs): $3 (add $1 per item for shipping)
By mail: Hobo Star Music, PO Box 17037,
Jersey City, NJ 07307
Songs:
Are You Gonna Fall for a Star: words by CHARLIE KING; music Swing on a Star by J. BURKE & J. VAN HEUSEN
The Contract: words and music by RAY KORONA
The Musicians:
Are You Gonna Fall for a Star:
CHARLIE KING - vocal, guitar
PHIL ROSENTHAL - guitar, banjo, bass, mandolin
The Contract:
RAY KORONA - lead vocal & guitar
IVICE - harmony & chorus
BARRY KORNHAUSER - bass & chorus
ELLEN DAVIDSON - chorus
ROBIN BURDULIS - drums, percussion
HOPE JOHNSON - chorus
JANICE JOHNSON - chorus
BEN SILVER - chorus
Graphics:
Cover art by RICK FLORES, labor cartoonist, WCP. Typesetting & Design by RUTH INDECK at QUAD RIGHT, NYC.