RAY KORONA BAND
MUSIC THAT MOBILIZES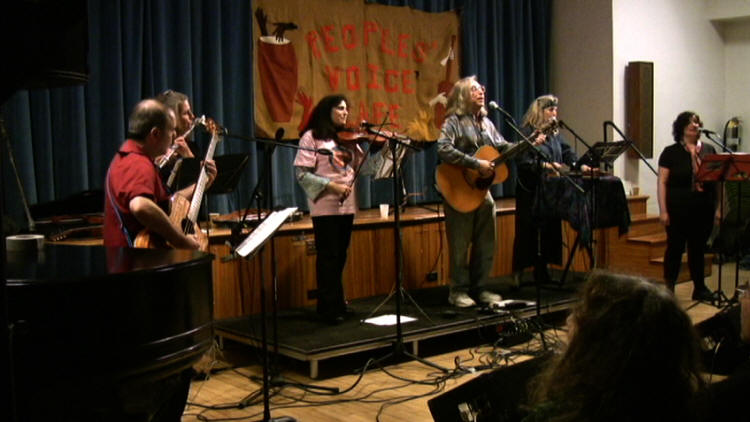 photo: Bill Hamilton
l to r: Barry, Gina, Sharon, Ray, Ivice, Ellen
Ray Korona passed away in October, 2014 from cancer. His life partner Ruth, Band members (see below), friends and musical comrades love Ray's music and have been keeping it in circulation through performances, radio programs, and various projects, including plans to publish a songbook.
Ray wrote stirring folk and folk rock songs about working, the environment, peace and social justice along with heartfelt songs of love and friendship. A founding member of American Federation of Musicians Local 1000, Ray's songs vary from the satirical and topical to ballads, chorus and story songs. "Free Harbors" was a winner of the Mobilization for Survival's peace song contest. "Where Do We Go From Here", sparked a New York Magazine cover story on the housing crisis' impact on artists. A health care rights song, "Send Me An Ambulance" was featured on national public radio and used at major Jobs With Justice rallies. "We Will Have Dignity," a song against child labor, has been published around the world in many languages by the UNís International Labor Office and used in its work on this issue.
Ray performed both solo and with a unique collective of musical organizers, The Ray Korona Band. The Band continues to perform, sometimes with guest artists. The Band is a core group of musicians-- Ivice (harmonies & dulcimers), Barry Kornhauser (bass, cello & mandola), Sharon Abreu (harmonies & fiddle), Ellen Davidson (harmonies & piano) & Gina Tlamsa (harmonies, flute, fiddle, mandolin & bouzouki) that works with a wide variety of players who bring racial, cultural and musical diversity to its work. Occasionally, guest musicians like John McCutcheon, Barry Mitterhoff and Perry Robinson sit in with the group. Ray performed in concert many times with Pete Seeger and also with Patti Smith, Harry Belafonte, Tom Paxton, Anne Feeney, Richie Havens, Judy Gorman, Leon Rosselson, Suni Paz, Pat Humphries, Lucy Kaplansky, Gary US Bonds to name a few. Since many of Ray's songs are topical, he also shared stages with noted speakers, including Amy Goodman, Noam Chomsky, Greg Palast, Jim Hightower, and others.
A Fast Folk reviewer wrote of a Greenwich Village show: "The concert hall was packed to hear Ray Korona perform a well rehearsed, balanced program...refreshingly new...wonderfully perceptive and funny!" A Sing Out! reviewer exclaims: "Ray Korona's songs are empowering and fun!" Pete Seeger, declares, "Wonderful songs! Ray Korona and band are great!" Ramsey Clark observes, "Terrific organizing music! People need to hear these songs." Songwriter's Hall of Fame President Oscar Brand raves: "I think Ray Korona's terrific. I like his songs. I like his singing. I even like his glasses."
CDs, downloads & tapes: A Little Too Much Sunshine; The Safe Thing To Do (includes peace song co-written & performed with Pete Seeger); The People Are In Charge!; $5 Working Peopleís Music Tape/CD (new songs on current labor issues, also on CD); A Friend Like You; It's Still the 60's (as long as government and corporations keep beating us up!); Free Harbors; Send Me An Ambulance (cassette single in support of universal health care); Fight the Contract on America and the Stars Who are Selling It! (cassette with Charlie King), and Sanctions (CD single about the sanctions in Iraq and how they devastated the old, the sick and the children of that country). Some of Rayís songs are also featured on compilation recordings, such as the new More Gardens CD.
Ray's Music-Related Work In Print
Cost of Freedom - In this anthology of grassroots activism, Ray tells how young mothers in Sayreville, NJ, created a peace drive where local children donated toys to children in war torn Iraq and Afghanistan. The complete lyrics to the song Ray wrote with Pete Seeger about their efforts, Toys for Peace, are also included.
Globalization and Green Line - Ray's lyrics to Globalization Blues are included in multiple editions of these textbooks from the major German educational publisher Ernst Klett Verlag. The company, which provides teaching materials to schools in Germany, Switzerland and Austria, has also published the lyrics and a recording of the song on CD in its Lets Go 6 series. A CD of the song along with printed lyrics has been published in the US for classroom use by Teachers' Curriculum Institute in its Econ Alive! economics learning program.
Trade Unions and Child Labor - The lyrics to Ray's song, We Will Have Dignity appear at the outset of this seven part bound collection published by the International Labour Office of the United Nations.
NJ Peace Action 50th Anniversary Cookbook - Ray's song lyrics from Our Soup Of Many Lands spark this book of "Ordinary People Making History and Making Soup."
A road story by Ray is included in Truly Rotten Gigs from Hell--the funny, the sad, the unbelievably bad--true tales from the musical trenches as told by numerous performers; collected and edited by Patricia Shih.
Ray has contributed articles about music, song lyrics and has been interviewed in various print periodicals. Among these are New York Magazine; Sing Out!; Broadside; Songs Celebrating Resistance; Sassafras; Pinewoods Newsletter; Z Magazine and others as well as many online e-zines and blogs.