Newsletter
from Ray Korona
Pete Seeger
We really miss him!
Folksinger Charlie King & I recently joined Eco-Logic host Ken Gale & NYC Friends of Clearwater President Donna Stein on WBAI-FM for a two hour program of stories and reminiscences about our longtime friend and musical comrade, Pete Seeger. The show includes rare Pete performances and Pete-related songs by Charlie & me. If you missed it, here are the links to listen in:
http://tinyurl.com/Pete-One
(1st half)
http://tinyurl.com/Pete-Second
(2nd half)
Also, in case you haven't seen it, here's a link to the video of Pete & me singing the Toys for Peace song we co-wrote, joined by Ellen Davidson & Gina Tlamsa:

http://www.youtube.com/watch?v=iiFauL40Xgc

<![if !supportLineBreakNewLine]>
<![endif]>
See and hear the band perform

at VIDEOS and at our video channel on You Tube at www.youtube.com/raykorona.
New Music for Peace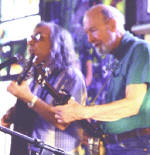 Bridges of Peace is a nonprofit organization dedicated to raising awareness for peace & love through music and the arts & helping children of war and poverty. Pete Seeger joined with me to write and record a song inspired by the Building Bridges of Peace Toy Drive (now featured on our newest CD,
The Safe Thing To Do
). In this drive, hundreds of US children donated toys to children in war-torn Iraq. You can now read the lyrics to the song, stream it to hear it through your computer and learn more about this unique organization by visiting its website:
Build a Bridge to Peace - One Life at a Time
Visit Bridges of Peace www.bridgepeace.org
Emergency Music! Visit URGENT SONGS for free AUDIO downloads!
Get our latest emergency political music. You'll find audio versions of songs there ready for you to play or download. Consider it shareware and spread it around. For free videos, go to Videos or visit our video channel at www.youtube.com/raykorona.
COST OF FREEDOM - the Great Book of Peace Activism
Novelist Mike Palecek, independent publisher Michael Annis and honors student Whitney Trettien have gathered empowering stories from activists and peace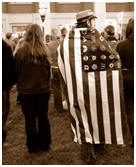 groups across the US to create an amazing new book, Cost of Freedom. It's an anthology of grassroots activism that documents the everyday revolutionary acts of over 75 courageous men and women.
Cost of Freedom contains the inspiring story of how an organization led by young mothers in Sayreville, NJ, created a peace drive where local children donated toys to children in war torn Iraq and Afghanistan. As you may know, Pete Seeger and I wrote a ballad about their efforts and the lyrics are included in it, too.
Cost of Freedom is very impressive in its appearance as well as its scope. Taken together, the photos, artwork and writing are truly inspiring.
Matt Jones (Sept 17, 1936 - Mar 30, 2011) was a wonderful singer, songwriter and song leader and a SNCC Field Secretary during the turbulent years of the Civil Rights Movement. He lent his prolific skills to the struggle and put his body on the line during that era and beyond. I interviewed Matt in Dec 1982 for the Pinewoods Newsletter. Read the interview or print it here.

Photos of the Peoples' Voice Café's 25th Anniversary Celebration:
With a big thank you to photographers Robert Corwin, Carol Levasseur and Joel Landy, lots of photos of Pete Seeger and many other performers taken at the 25th Anniversary Celebration of Peoples' Voice Café are now online. Just click here to see them!
2 Special Peace Songs
Hear Ivice sing Vision of Peace; hear me sing The Power of Love and Light & download peace songs by a number of other performers as well. Visit: Go to: Bridges of Peace and New Songs for Peace.
Trade Unions & Child Labor is an outstanding boxed set of seven booklets designed to help combat child labor, recently published in multiple languages by the International Labor Office (ILO). The opening volume features my song, "We Will Have Dignity" from the Working People's Music Tape & CD and a song by Pete Seeger. The series includes ILO standards, action plans, techniques that work and more. (Info: Bureau of Workers' Activities-ILO, 4 route des Morillons, CH-1211, Geneva 22, Switzerland; actrav@ilo.org; ILO Child Labor site)
Links Let me know if you have a web site with the kinds of musical or activist items you think would be of interest here. I'd like to see the links section really work as a communications resource.
Radio Talk (No, not talk radio.) Several people have asked me what stations they can hear our music on and if it's cool to ask the dj's to play it. A list of stations we know about is pasted below. I'm also interested in your ideas of any particular radio people you think might like what we do. Seems to me it's great to ask dj's that you actually listen to to give our songs a spin. They usually want to know what their listeners like and it helps get our music out to the world. It's not cool, however, in a frenetic state of enthusiasm for the music, to play tricks on the radio stations. For example, if you're in Hawaii, don't call or email a dj in Nashville and request a song (unless, of course, you listen to the show on the internet).
Radio Report Some stations which have or are playing our music include. This is a sampling; sorry if your station isn't on the list, we try to keep it updated:
CKUT KAFM KAGU KALW KANU KAOS KAUR KAXE KAZU KBAC KBCS KBOO KBSU KCBX KCLC KCRW KCSU KCUR KDHX KDLL KDVS KEMC KEOS KEUL KFAI KFJC KFJM KFOK KGHP KGLT KGHP KGNU KHSC KHSU KIHR KIYU KKGO KKSM KKUP KKUT KLCC KLCC KMCQ KMNR KMSA KMSU KMTT KMUN KNON KOAC KOPN KPCW KPFA KPFK KPFT KRCC KRCL KRVM KRVM KSBR KSER KSJN KSMU KSYD KSYM KTCZ KTEP KTOO KTPR KTRU KTSB KUGS KUMR KUNC KUNI KUNM KUNV KUSP KVMR KVMR KVMR KVRX KWCW KWCS KWJG KWKW KWMR KZAZ KZMU KZSC KZSU KZUM NPR WADN WAER WAIF WAMC WAMU WATD WBAI WBCR WBGU WBJB WBOR WBRS WBSU WCBE WCBN WCBR WCIB WCLV WCNI WCSB WCUW WCVE WCVF WCWM WCXS WDBM WDBX WDET WDEV WDHA WDIY WDST WEBR WECI WECS WEFT WEMU WERN WERS WERU WESU WETA WETS WEVL WEVO WFCC WFCF WFCR WFCS WFDU WFHB WFIT WFMT WFMU WFSS WFUV WGBH WGBU WGCS WGDR WGLT WGMC WHCL WHFS WHRB WHRC WHRO WHRV WHUS WICB WICN WITF WIUM WIUW WIUP WIUS WJCU WJFF WJUL WKAR WKCR WKHS WKSU WKZE WLRN WLTC WLUW WMBR WMEA WMEB WMFO WMNF WMNR WMPG WMRA WMSE WMUA WMUB WMUC WMWV WNCS WNEC WNEW WNHU WNKU WNMC WNTI WNUR WNYC WNYU WOJB WOMR WORT WOUI WPCT WPFW WPKN WPLN WPRB WPRK WPSC WPSU WQLN WQXR WHRC WRBC WRCT WRDV WRFG WRIU WRKF WRMC WRNR WRPI WRSI WRSU WRUR WRUV WRUW WSCL WSHU WSHU WSKG WSLU WSMU WSPN WSRN WTBQ WTCC WTIP WTJU WTMD WTRI WTSR WUAL WUCF WUFT WUMA WUMB WUML WUNH WUSB WUVT WUWG WVBR WVGN WVIA WVIA WVKR WVMR WVPE WVUA WVUD WWGC WWHS WWPV WWSP WWUH WXLV WXOJ WXOU WXPN WXPR WXXE WYBC WYCE WYEP WYMS WYSO WYSU Various, including some internet radio: Online Folk Festival; US Queer Network; Gay Music Express; Montana Public; Music Without Boundaries; NW Public; Peace Through Music; Peace Train Radio; Prairie Public; Radio Upper Galilee; radiowayne; Saturday Light Brigade; the Point; VT Public; many others.