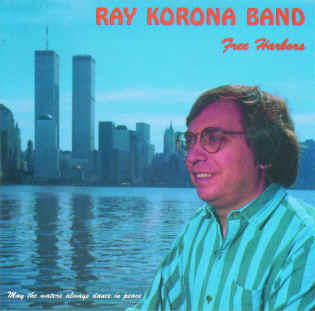 Free Harbors - mail order only:
$12 including shipping from HOBO STAR MUSIC, PO Box 17037, Jersey City, NJ 07307

Download a medley of songs from this CD


Songs:
Maybe You're A Yuppie * Jennifer's Music * Tide of Love * Where Do We Go From Here * Job Song * Free Harbors *New Age Department Store* Grampa Took A Walk * Melinda* Paper * We're Like The Seasons * Message of Peace
All songs written by RAY KORONA (BMI). Lyrics included in booklet. Lyrics are also available here: Free Harbors
More about the recording:
The Ray Korona Band's first recording, FREE HARBORS includes both highly satirical songs such as Maybe You're A Yuppie, Job Song, New Age Department Store and Paper and the folklike ballads Melinda, We're Like The Seasons and Message Of Peace. It also offers story songs: Jennifer's Music, Tide Of Love, Where Do We Go From Here? (featured in a New York Magazine article) and Grampa Took A Walk. The title song, Free Harbors, was a winner of the Mobilization for Survival peace song contest. This is truly a songwriter's album. It features the only available recordings of some of Ray's most requested songs, but it was recorded before he developed the singing style that is now so much a part of his later recordings and live performances.
The musicians:
RAY KORONA - lead vocals, rhythm guitar
IVICE - lead & harmony vocals, dulcimers
BARRY KORNHAUSER - lead & rhythm guitar, bass, chimes
KENNY KLEIN - fiddle
TZIPORA KLEIN - flute
ANDREA GOODZEIT - piano
RANDY CRAFTON - drums, marimba, tambourine
AMY PLATT - clarinet, bass clarinet, alto saxophone
BARRY MITTERHOFF - mandolin
NINA SILVER - harmony vocals
J. J. SILVA - trumpet, trombone, whistle
New Age Choir: JIM GAHN, ERIC GORDON, IVICE, NINA SILVER
Chorus: JIM GAHN, KEN GALE, LISA GARRISON, ERIC GORDON, RUTH INDECK, IVICE, JOSH JOFFEN, JAY MANKITA, ADELE ROLIDER, NINA SILVER, RONNA TEXIDOR, MERCY VAN VLACK, BRUCE WOODY
Yuppie Chorus: IVICE, CHIP FABRIZI, BARRY KORNHAUSER, J. J. SILVA
Other Info:
Produced by RAY KORONA & BARRY KORNHAUSER; arranged by BARRY KORNHAUSER; engineered by CHIP FABRIZI, PPI Recording, NYC.
Cover photography by DAVID LUFTIG. Typesetting and Design by RUTH INDECK at QUAD RIGHT, NYC.